Woke up and checked a rain cloud radar. The rain is hard now, but the radar says that it will stop around 10AM. So I decided to sleep more.
Woke up again and eat breakfast. This hotel serves buffet style, so I eat a lot.
When I sheltered from the rain, I was talked a person and he was kindly to drove me to the next station, Shinshohara.
Started walking from Shinshohara station. The Rain was stopped. I still have pain on my leg, but I feel better by using supporters.
I found a drug store and bought Vantelin and a poultice, because I used the up. I apply a poultice on my shin. It's amazing, because it relieves my shin pain very well.
I found an interesting shop, Taisyo-Roman-Dining. I want to go, but it locates the other side of the road. I can't find any crosswalk near hear…
The traffic signal says this point is just 300km away from Tokyo! According to weather forecast, the weather will be cloudy. But sky is clear! Terrible!
There are many fast food shops along this road, but there are no restaurants. Today, I don't want to eat fast food, so I keep looking for restaurants. But I couldn't put up with my hunger, I had lunch at a convenience store…
During lunch, I decide today's destination, Okazaki. The reason why I choose Okazaki is there is a Public Spa near a Manga cafe. The location is perfect, because before I sleep at a Manga café, I can relief pain and recover at the Spa.
Entered Okazaki-City. The scenery around Hon Post Town is beautiful.
I felt shin pain again, so I took a rest at a convenience store. But there were many high school students and they were noisy. I had to finish my rest within 10 min.
Had dinner at Yoshinoya, one of the most famous Gyudon restaurants. It is the first time to go to Yoshinoya during this journey. I'm so thirsty that I drink 6 glasses of water.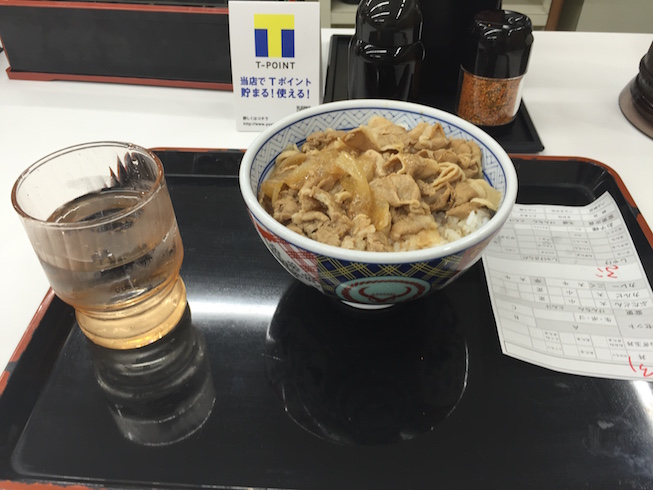 Finally, I arrived at the Public Spta, Furo-ya. The spa was great, because there is a laundromat neighbour to it. After taking spas, I did laundry and go to today's Manga café.
I can enter Nagoya-City tomorrow. It is just over 30km, so it looks easier than today.