Woke up. I planned waking up earlier, but I overslept. I ate some bread for my breakfast.
The third day had started. I'm climbing Hakone-Peak! Today's final destination is Fuji-City. If it is difficult, Numazu-City or Mishima-city would be today's goal. The weather is cloudy, but it's better than sunny for me, because I hate strong sunshine and hot weather. I used trekking poles to cross the Peak, Sometimes Goole says to walk narrow and minor roads like animal trails.
I found the Odawara-side of the entrance of Old-Tokaido. The road is stone-paved, covered by moss and was a bit wet. It is slippery, so I have to concentrate on my path.
While passing the Peak, I suddenly felt strong pain on my left knee. The pain was so painful that I couldn't concentrate on my path, still more bent more knee. I used my trekking poles as crutches.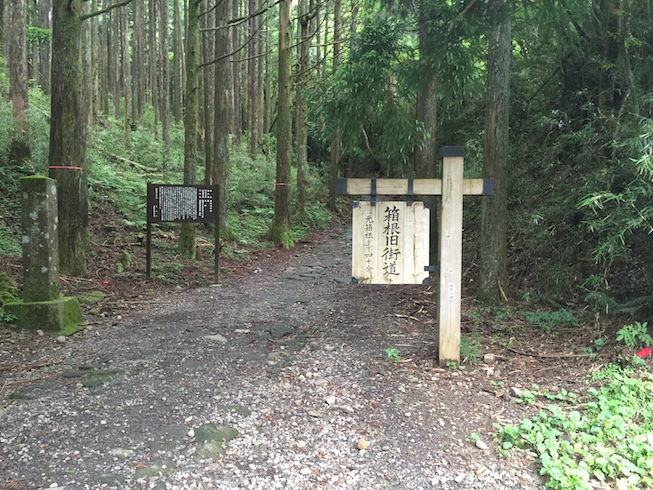 Finally, I reached a good view point of Ashinoko-Lake. The pain on my knee is getting worse...
Arrived at "Michi-no-Eki"(roadside station which has famers markets, restaurants and so on) Hakone. Took a lunch and rest for a while. I ate Udon noodle and thought about my final destination of today. During that time, it started raining. I started waiting and shelter from the rain, because a weather forecast said the rain would stop soon.
An old couple talked to me. They lived in Mishima-City and drove to Hakone for their day off. The reason why they talked to me was I was carring a big backpack. It seemed that I was a traveller. After talking for a while, they kindly drove me to Mishima-Taisha-Shrine.
We arrived at Mishima-Taisha-Shrine. I thanked them. I got caught in a shower, but I took a look at the shrine.
The notice board said the small shrine is "Itsukushima-Shirne" which is the same name as the famous one in Hiroshima.
The rain stopped, so I restarted walking to Numazu. This morning, I planned to go to Fuji-City, but it's just not possible. I had strong pain on my knee, but staying at Mishima is too early, so I decided to walk to the nearest big city, Numazu.
On the way to Nummazu, I find a drug store and buy muscle pain reliever, Air Salonpas there. I use it but my pain doesn't get well.
Entered Numazu-City. I decided to go to Numazu station, because I thought there would be many shops.
Arrived at Numazu station. I take a rest in a Manga cafe near the station and rethink today's plan. According to many sites, there are only few accommodations between Numazu station and Fuji station. I find a hotel near Numazu station where it provides breakfast and laundry for free. Soon I make a reservation at the hotel. On the way there, I bought a knee supporter and dinner at the station.
Today's dinner is meat balls and begetable juice.
Shizuoka is famous for by eels' bones. I eat them to digest calcium. I hope they help my knee to recover soon.
Before going to bed, I research about the cause of the pain on my knee. It may be runner's knee. The website said that it's better to cool my knee down, so I will use Air Salonpas to coold down my knee tomorrow.
Around 11PM, I went to bed. I worry about my knee. I hope my knee will get well tomorrow.